Roxson Roof Options
Roxson offers high quality, inexpensive steel building products and contracting in Canada. As part of our steel building product offerings, we present many steel building roof options.

SSR Metal Roof
SSR metal roofs feature extremely cost effective, low slope, interlock panelling schema that is both water proof and ultra weather resistant for an advanced and long lasting seal against even the most harsh of elements. SSR metal roofs are perfect as part of your green building plans and it is available in Regal White color coating which is incredibly thermal efficient and offer expanded water drainage, panelling forty feet in length, flexible, concealed fasteners, and a wind uplift of UL 90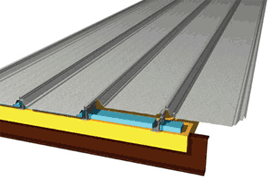 SLR Panel Roof
SLR roofs are perfect for smaller projects because they are offered in 40 feet and under, are cost effective, durable, resistant to the elements, and are easily and quickly assembled for minimal downtime. SLR panel roofs are thermally efficient, feature a wind uplift of UL 90, and feature both high and low slope options.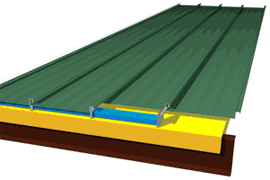 Panel Rib Roof
The Panel Rib Roof is attractive and economical. Panel rib roofs require minimal maintenance, offer extreme energy efficiency, and the ability to install fibreglass insulation. Some additional benefits that the panel rib roof offers is stainless steel, self drilling, color matching clips, less side and end laps, and superior wind, water, and other weather resistance. This particular roof system features a wind uplift of UL 60 or UL 90.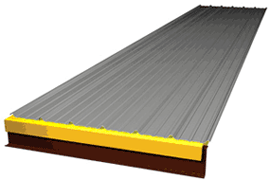 Snap Seal Roof
The Snap Seal Roof offers extreme protection against the elements, thanks to its special standing seam joinery. Although it is visually comparable a conventional roof, it is actually much tougher and more versatile. There is no need to for field seaming, and may be mounted over many differing material. The Snap Seal Roof features a wind uplift of UL 90.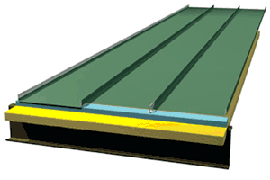 Call Roxson today if you would like more information on any of the above roofing options. We will be happy to answer any questions you may have about metal roofs or any of Roxson steel building products.